New Diesel Power Gives Defender New Life
The Defender is Land Rover's oldest vehicle currently in production.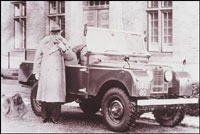 Sir Winston Churchill and the Land Rover Series I. Think of it as the first branch on the Defender's Family Tree. (Photo: Land Rover Canada)
The current version dates back to 1990, where it was appointed the name "Defender", but make no mistake, it's a direct descendant of the original Land Rover that made its debut as a production-version of a military vehicle back in 1948.
The Land Rover Defender has a pretty illustrious history that few other vehicles of any type can match: at one point, the Land Rover was the vehicle that 60 percent of the world's population saw for the first time. While that number has dropped since, the same just can't be said about a Jeep or a Toyota truck.
While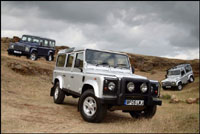 No longer found on our continent, the Defender continues on elsewhere. (Photo: Land Rover Canada)
the Defender hasn't been exported into Canada for almost a decade, yet it's still alive and well in other parts of the world. Just as Mercedes announced that it would be extending the life of its G-Class off-roader, Land Rover just announced that it will be keeping the Defender as part of its product lineup by extending its life until 2010 at the very least. One of the main reasons why Land Rover is still able to build the Defender in this day and age is that it's classified by the European Union and FIA as a light commercial vehicle rather than a passenger car. Because of this, Land Rover is able to bypass the NCAP passenger and pedestrian safety tests.
The Defender's update will be more of a minor freshening than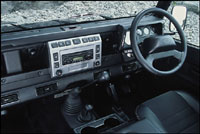 Heated seats, a stereo... today's Defender may be sparse, but it's certainly a far cry from antiquated. (Photo: Land Rover Canada)
a through-and-through update. The boxy body of the truck won't be modified, but changes will be made to the interior and drivetrain. Upgrades to the HVAC system will ensure better airflow and temperature control, while minor changes have been made to brighten the look of the cabin.
The bigger changes are what Land Rover will be doing under the hood. Starting for 2007, a new diesel engine will be offered, adding a more powerful yet more economical choice for buyers. After 2010, new emissions laws will be put in place for commercial vehicles. At that point in time, Land Rover will decide whether or not it is worth continuing with the Defender nameplate.
Since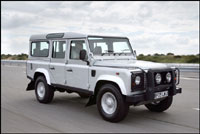 Most Defenders live a tough life, but they last. 1.2 m of them are still roaming the planet. (Photo: Land Rover Canada)
its launch, the Land Rover Defender has built in several versions, ranging from a three-door hardtop "station wagon", popular for its use in commercial applications, a long-wheelbase hardtop wagon, a pickup truck, and a short wheelbase open-top version, a variant truly adored by off-roading enthusiasts. Of course, because the Defender is at its very heart a body-on-frame truck with live axles and a bulletproof, foolproof transfer case made of workhorse grade components, you'd expect it to be extremely durable. Land Rover estimates that out of the 1.8 million Defenders and other variants built, two thirds (1.2 million) are still on the roads today.
While other "Classic" off-roaders, such as the Hummer H1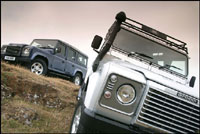 Keeping the Defender alive means saving costs and keeping plant workers happy. (Photo: Land Rover Canada)
and Mercedes-Benz G-Class dwindle in numbers, the Defender is still selling very strongly. Over the past several years the Defender has averaged 25,000 units annually, much of which is done through fleet sales. Those kind of numbers make the Defender significant enough to keep assembly lines churning them out at Land Rover' Solihull plant, right alongside the LR3, Range Rover and all-new Range Rover Sport. The decision to postpone the retirement of the Defender will ensure that 750 plant workers retain their jobs.