Falling Hard For My Long-Distance Winter Travel Companion
I couldn't believe it. The middle of winter, and despite being on the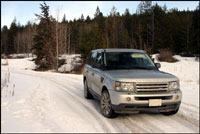 As that Pirelli ad says, power is nothing without control. So, I had them swapped for high-performance winter tires made by Continental. (Photo: Trevor Hofmann, Canadian Auto Press)
West Coast, where it tends to rain more than snow come March, or anytime for that matter, Land Rover had equipped its new
Range Rover Sport Supercharged
with stock performance-oriented summer tires. Large in diameter and ultra low in profile, 275/40R20 at all four corners no less, the hot looking Pirelli PZero Rosso Asimmetricos wouldn't do at all. I quickly made the appropriate phone calls that resulted in plans to return to the Richmond, BC dealership that LR uses as a liaison to the media, and have the racy rubber replaced with more suitable tires.
Why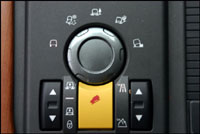 Land Rover's Terrain Response system is easy to use; simply twist it to match the road around you. (Photo: Trevor Hofmann, Canadian Auto Press)
the concern? While there's always the off-chance that the heavens will open and snow will descend upon us, my worries centered around a road trip I had planned for the following day, which would take me and the Sport overtop one of the higher mountain passes in this neck of the woods, delivering me safely to one of my clients in Kamloops, BC. I returned to the dealership later that day and in about half an hour, while enjoying a relaxing moment of downtime in the well-equipped customer lounge, I was off, a new set of Continental 4X4 SportContact tires, of the same dimensions, giving me more confidence.
Being that there was no racetrack between my home and the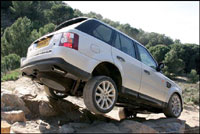 The Range Rover Sport is a sports car that can scale rocks. (Photo: Land Rover Canada)
dealership, the only opportunity I had to test out the previous set of tires was on city streets plus a few short stretches of freeway, and as far as attempting any activity that could even come close to breaking traction, a few high-speed cloverleaf-style on- and off-ramps would have to suffice. And on that note, I noticed little difference between the racing slick-like performance tires and the heavily grooved mud & snow rated winter rubber, which made it quite clear that I hadn't even come close to testing this SUV's tenacity when equipped with the Pirellis.
No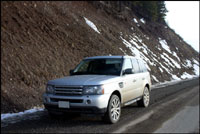 Range Rover Sport is also a sports car that can carry five and luggage too. (Photo: Trevor Hofmann, Canadian Auto Press)
worries, track testing the Sport would have to wait. Currently, I was on my way home to prepare for a road trip; one of those rare opportunities to travel without the headaches of airport security and fear of baggage loss. And looking around at my first-class cabin of choice, I realized that even upgrades to business class brought about by my frequent flier status wouldn't come close to the opulence Land Rover had afforded me.
Only the top-line Range Rover delivers a more lavish SUV interior, with few others,
VW's Touareg
, Porsche's Cayenne, plus a couple from Lexus being the only off-road capable SUVs immediately coming to mind that even come close to matching the new Sport's cabin. And while plank-like hardwood graces the door panels and frames the centre stack, its ambience is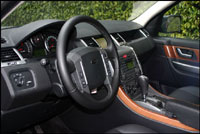 ... and the Range Rover Sport also has the interior of a first-class limo. (Photo: Trevor Hofmann, Canadian Auto Press)
more adventurous than its larger, older sibling's moneyed décor. The wide centre interface commands immediate attention, pulling all eyes toward its fusion of high-tech componentry and old world charm. Level with the topmost edge of the dash and surrounded by a set of high-quality vents is a large LCD screen displaying navigation information; requisite in this segment of the market. I found it easy to use and effective, although I really didn't need it during my trip as I knew the way without need for directions. Just below, four square buttons, the first to defeat the DSC stability control system, the second to turn off the SUV's electronic parking assistant, the third and fourth pair being rather oddly placed buttons for unlocking and locking the doors, in that order, flank a large, red half-moon hazard switch. Traveling further down the centre stack brings a somewhat utilitarian looking audio system head unit, but it wins points for ease of use, the inclusion of an integrated six-disc stacker, and superb overall sound quality.
And that last point, of course, is crucial for a road trip. I started later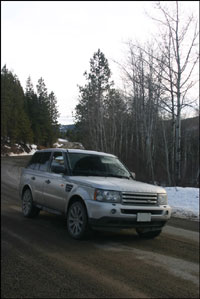 Heated seats, dual-zone temperature, and six CDs in the changer. Perfect. (Photo: Trevor Hofmann, Canadian Auto Press)
than I had hoped, not unusual for me mind you, but I didn't want to end up in the middle of a snowstorm after sunset. Road tunes were in order, but only after setting the automatic climate control to that optimal temperature that keeps all extremities comfortable but doesn't lull a driver to sleep - different in almost every car, as I've learned. Heated seat set to high, via a crafty set of two-mode buttons incorporated within the centre of each dual-side temperature dial, I pulled six of my favourite CDs out of their cases and slotted them into the CD changer one by one, and proceeded to wake up my senses to "China Grove", the first track on the "Best of the Doobies" album - yes, I'm a boomer, can you tell?
The road from my North Shore home, over the Ironworkers Memorial Second Narrows Crossing, originally called the Second Narrows Bridge (renamed in 1994 to honour the 27 workers who lost their lives on June 17, 1958 during its construction), through the outer reaches of East Vancouver, Burnaby, Coquitlam, and then over the Port Mann Bridge into Surrey and beyond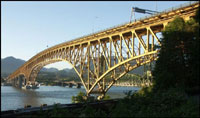 The Ironworkers Memorial Bridge, in all its glory. (Photo: Port of Vancouver)
to Langley, Aldergrove, and the rest of the "cities" that just seem to blend into what we all simply call the Valley; one of the richest tracts of rainforest-nurtured farmland in the world. I've driven it hundreds of times, mind you, so the splendor of the region is most often lost on me, my sole thought at the time being how to maximize time so that I might arrive at my client's office with enough time in hand to meet them face-to-face for the first time, learn a little bit more about their business, and then join them for dinner.
While driving a luxury car along this stretch of freeway, such as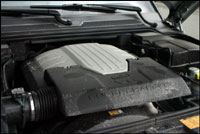 The 390 horsepower supercharged V8 provides instant throttle response. (Photo: Trevor Hofmann, Canadian Auto Press)
the Jaguar XKR that the aforementioned dealership just happened to have on display in its showroom the day before, would no doubt offer greater comfort thanks to a more compliant suspension setup, and would be capable of higher speeds despite being equipped with what is very nearly the same supercharged 4.2-litre engine - the Sport "making do" with 390-horsepower and 410 lb-ft of torque while the XJR V8 puts out a slightly more engaging 400-horsepower and 413 lb-ft of torque - I wasn't held back by the Land Rover. Once up to speed its 80 km/h-plus passing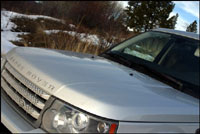 Under that hood is some serious passing power. (Photo: Trevor Hofmann, Canadian Auto Press)
power found no rivals, or at least none that were willing to try. Of course, there are a number of super-SUVs that can take the Sport Supercharged in acceleration tests, and others that will outperform it in the corners, but I don't think that Land Rover created it to be the world's fastest SUV anyway. Let Porsche and its
Cayenne Turbo
, plus Dodge and the
Grand Cherokee SRT8
fight that battle. Only the former is capable off-road, and there's a pretty sound argument among SUV enthusiasts that neither vehicle looks as attractive as the Sport, or for that matter is executed to such a high level of style and refinement inside the cabin.
The Valley was soon in my rearview and the mountains loomed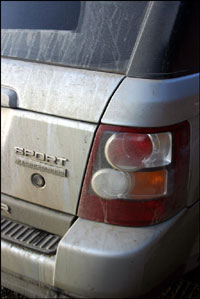 You can tell the Sport's a true Range Rover; it still looks fantastic, even when covered in salt, silt and dirt. (Photo: Trevor Hofmann, Canadian Auto Press)
overhead, glorious in their presence but foreboding just the same. I've done this route many times, and while some trips have been filled with blue skies framing green, gray, and in winter, white landscapes, others tormented with desperate white-out conditions that made it difficult to see the lines on the road directly in front of the car, let alone scenery. I climbed out of the valley, making good pace in the Sport, the engine and six-speed automatic combination effortlessly scaling grades that often make lesser vehicles gasp in breathless overwhelm. Not surprisingly, the Sport managed the high speeds with composure too, its air suspension totally soaking up pavement irregularities while keeping the hefty 'ute tracking flawlessly... that is until the pavement below transfigured into a brownish snow, with only the rightmost lane clear enough to safely maintain the speed to which I'd become accustomed.
I pushed on, flurries now whirling around overhead, but not so much as to block my vision. The biggest obstacles were inevitably on the road before me; vehicles making their way northeast, just like me, forcing me to pass if only to avoid flying rock salt and, as I soon found out... stones. Yes, one hit the windshield like a bullet ricocheting off a sheet of shale, but unlike what it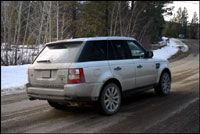 The Sport's body is lower and sleeker than the classic Range Rover, but has the same general shape and blacked-out pillars. (Photo: Trevor Hofmann, Canadian Auto Press)
would likely do to the black rock the impact resulted in a tiny crack. No worries, I'm sure that this can be fixed without replacing the glass. And then another... whack! Ouch. I know it's not my vehicle, but I was raised to take better care of things that were borrowed than even that which is my own, so I felt each hit as if it were tearing apart my very own Sport, and possibly even more so. I eased into the passing lane and feathered the throttle, not to upset the SUV's level of traction by adding too much torque. I held on, passing a number of cars, vans, pickups and highway trucks, none of which appeared expensive enough to cause their owners any concern over flying debris, and once in front was able to stay out of harm's way until I reached the toll booth atop the mountain. It was then, when I was able to relax for a moment, that I noticed a rotating dial on the centre console, complete with pictographs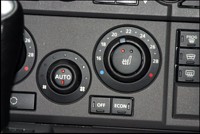 Not all the Range Rover Sport's knobs, switches and buttons are for pampering its occupants, but these are. (Photo: Trevor Hofmann, Canadian Auto Press)
depicting various road conditions. Just to the right of my default setting, I noticed one with swerving tracks and a snowflake image, and immediately pressed the knob, which elevated it from its recessed position, and then turned it to the appropriate setting. Immediately driving on snow became almost as carefree as on dry pavement, allowing me to move to the left as soon as I saw upcoming traffic closing in, so that I could avoid any more damage to the window - or anywhere else that wouldn't have made itself known as of yet.
Its mostly all downward from the toll booths, at least until the tiny town of Merritt ushers in a four-way crossroads that could either have me pointing north, to Kamloops, northeast, to Kelowna, west, to the beautiful Nicola Valley (maybe another time), or southwest, from where I came. I continued on toward Kamloops, unaware that the storm I had just passed through would seem like a cakewalk compared to the peaks that lay between me and my final destination.
The hill out of Merritt is long, steep and again, taxing on some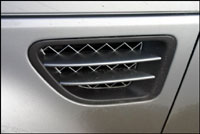 Peaks and valleys flattened by the Sport Supercharged's 410 lb-ft of torque - and cool side vents to boot. (Photo: Trevor Hofmann, Canadian Auto Press)
vehicles, but similarly hardly noticeable to the Sport. The road was wet but not drenched, and fortunately the white stuff was relegated to the shoulders. Reaching the summit and rounding the mountaintop everything changed. Now snow was everywhere, and with it the intensity over the previous leg of my journey increased. The highway was now completely covered and air filled with more aggressive swirls of the white stuff, gusting and limiting visibility, tiring the mind as much as the eyes. I new I was only an hour away from Kamloops, and therefore pressed on. Again, the Sport maintained a swift clip without showing any signs of instability, making me glad I'd opted for what I now considered to be the ultimate winter traveling companion.
I made it in time for a short, informative meeting, enjoyed a fabulous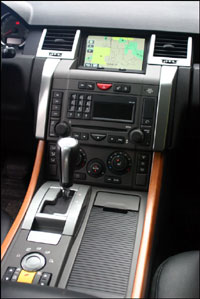 Centre console is wide, but it needs to be, considering it's chalked full of stuff. (Photo: Trevor Hofmann, Canadian Auto Press)
meal at Ric's Grille (made all that much better after a little adventure) conveniently located in the hotel I would stay at that night, the Four Points Sheraton, and took part in some great conversation that rarely touched on the business I'd come to discuss, which ironically is always better for business in the end. After a good night's rest it was off to their office once again, for more in-depth discussions, a spirited lunch of brainstorming and good fun, and then back on the highway.
The road home, despite only being twenty-four hours past, was as clear and dry as the sky overhead. I made quick time, and due to this was able to pull off the highway to investigate a back road I'd always wanted to explore. A Range Rover is the ideal exploratory vehicle after all, so how could I pass up such an opportune off-road adventure? First I went north, as the road crossed under the highway in two directions. It was, as expected, farmland surrounded by trees, and the road, while gravel, was well groomed and a walk in the park for the Sport. I stopped to take a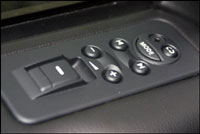 Rear stereo controls; not a bad thing if you don't mind your kids' music choices - although that headphone jack could solve a lot of problems. (Photo: Trevor Hofmann, Canadian Auto Press)
few photos, traveled up a little-used road that quickly became a goat trail, engaged low gear and raised the suspension, an easy combination of processes that included rotating the previously mentioned dial one click to the right and then pushing the switch with the mountain pictograph on it that resided next door. I took a few more photos, circled back to the road, hardly phasing what I already knew was a much more competent 4x4 than I would ever have use of on this trip, and then returned the suspension and gearing settings to those previously chosen, before continuing on up the road. On the way I passed by a lovely homestead and, a hundred meters down the road, some dilapidated shacks that hardly looked habitable, turning around only because the southern road had always been of most interest anyway.
That's a faint clue to the core of my personality, if you were ever interested, as I'm almost always willing to put off something good now in order to get something better later. Unfortunately, I'm also just as willing to put off doing something that seems less than favourable at any time, unwittingly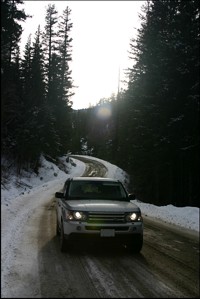 The southern road was much more picturesque. (Photo: Trevor Hofmann, Canadian Auto Press)
allowing it to mushroom into something much worse. As hoped, the southern road was much more picturesque, following a fast-paced river at first, only to hug closer to the mountainside as it continued, winding and undulating at the whim of the landscape. A sign at its beginning noted a town was ahead, but in my experience such backcountry towns are rarely as worthy of attention as the route getting there, so I enjoyed my drive, catching glimpses of rushing rivulets and still ponds, rocky crags and rambling valleys, and finally noting that shade was covering my gravel path more often than sunshine, I turned around and headed back.
Having added a little adventure to my road trip, and knowing that you would have grilled me relentlessly if I hadn't bothered to take the Sport off-road (I do read your emails and most often respond if you care to click on the writing credit at the top of this page to find the hidden address), I settled in for the long, somewhat dull trip home. Again, with scenery as spectacular as that which lay before me, only a desire to be home with my wife and children, plus the monotony of traveling this route over and over again through the years, causes me to use the term "dull" as a descriptor. If you're from the prairies, or even a couple of hours away in the city of Vancouver, a trip up the Coquihalla Highway will floor you. I'm just jaded, I suppose.
But even being a jaded automotive writer, having driven everything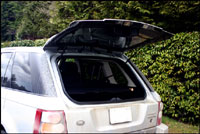 Clamshell-like rear cargo access from the regular Range Rover is replaced by a full lift-up tailgate, incorporating a handy pop-up glass hatch. (Photo: Trevor Hofmann, Canadian Auto Press)
from Acuras to Volvos, and most every brand in between, such as Audi, Bentley, BMW, Ferrari, Jaguar, Lexus, Lotus, Maserati, Mercedes-Benz, and a host left unmentioned for no particular reason, I felt almost regal in the Range Rover Sport Supercharged. It's the kind of vehicle Prince Charles drives on his way to a polo match or to let out the hounds prior to a hunt, let alone the actual vehicle given, by appointment no less, to her majesty, et al.
Royalty I wasn't when returning home, mind you; a frazzled wife heaving the children upon me while I "nuked" some M&Ms (the meat shop not the chocolates) for dinner. But how could I complain? I just enjoyed, albeit a little tired from the experience, one of the best sport utility vehicles money can buy. I was nourished with good food, relaxed in a comfortable hotel and made new friends, book-ended with some quality adventure time.
I don't have many complaints, about the car I mean; one really, and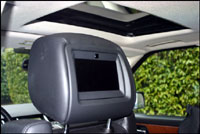 LCD screens linked to DVD player provide those in back with entertainment. (Photo: Trevor Hofmann, Canadian Auto Press)
it wasn't from me. A colleague, who joined me for lunch, found the front seat cramped, especially for his legs. He's a tall man, so it makes sense that I wouldn't have noticed such a problem being a mere 5'8", but this was a turnoff for him, saying that it wasn't really any lack of depth for his legs, per se, but rather a lack of width between the inner door panel and wide centre stack and console. Overall, I found the Sport quite accommodating, but could see how a larger person would feel a bit shoehorned into the front passenger seat. The rear seats seem to be more spacious, and thanks to a DVD system with twin monitors conveniently integrated into the backs of each front seat headrest, would be an ideal long-term storage area for kids - at least my five-year old boy thought the system was pretty cool. Hmmm... maybe I could borrow it again for summer vacation?
And that question leads me back to the cracks in the window. Turns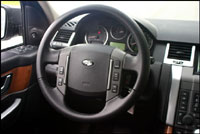 Range Rover Sport's interior is a comfortable place to be. (Photo: Trevor Hofmann, Canadian Auto Press)
out the entire windshield had to be replaced after all, thanks to what appears, under close inspection, to be a system of a thousand tiny electric wires, or so, sandwiched within the glass, designed to thaw out ice and snow quickly, although rather pricey for repair. I cringe to imagine what those road missiles did to what was previously a meticulous coat of silver paint covering the Sport's somewhat vertical front end (although something like ClearBra.ca's Paint Protection Film would probably do the trick, protecting the paint finish for a lot less than constant repaints). When I brought it back, it was too dirty to tell, but I can only guess that no-one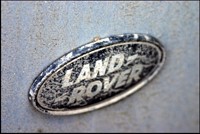 Dirt, dirt and more dirt... that LR badge has never looked better. (Photo: Trevor Hofmann, Canadian Auto Press)
will be allowed to take a Land Rover press vehicle on a winter drive up and over the Coquihalla pass anytime soon.
Still, such a drive is precisely what this kind of vehicle was made for, and exactly what the supercharged Range Rover Sport excels at. I came away from this road trip appreciating the Sport for what it is; one of the best SUVs money can buy... period. It's not the quickest, although it's quicker than you'll ever need, its not the most efficient from a fuel economy point of view, as if that matters to the $100K club, and if third party studies from J. D. Powers and Consumer Reports are any indication, it may not be the most reliable either; but it's fabulous to look at, wonderful to drive on any terrain, and meticulously crafted. No wonder Land Rover is once again in the black.

Specifications (Sport Supercharged):
Price Range (MSRP): $93,800 - $101,300
Price as Tested: $101,300
Freight & PDI: $995
Body Type: 5-door SUV
Layout: front engine, 4WD
Engine: 390-hp, 410 lb-ft of torque, 4.2L, 32-valve, supercharged DOHC V8
Transmission: 6-spd automatic with manual mode
Top Speed: 225 km/h (140 mph), electronically limited
Brakes (front/rear): disc/disc, ABS with EBD
Warranty (mo/km): 48 / 80,000 comprehensive
Competitors: BMW X5 4.8i, Jeep Grand Cherokee SRT8, Mercedes-Benz ML55 AMG, Porsche Cayenne Turbo, Volkswagen Touareg V8 / W12
Web Site: www.landrover.com